Deprecation Notice
the CoApp product is deprecated and will be discontinued from February 28th, 2020 on.
Agent Workspace Requirements
Your agents will be using LiveEngage from a supported web browser to make calls to your consumers. This section explains how to setup your LiveEngage account for voice & video support.
Note: Legacy systems do NOT support this feature.
Supported Browsers
| Browser | Version | Desktop OS |
| --- | --- | --- |
| Chrome | >= v54) | Windows, MacOSX, Linux |
Note: Only web browsers listed here are supported. When using LiveEngage from an unsupported browser the feature is automatically disabled from the agent workspace.
Required Hardware
| Feature | Hardware | Note |
| --- | --- | --- |
| Voice Calls | Microphone | - |
| Video Calls | Microphone + Webcam | - |
| In-app CoBrowse | - | requires a voice-call |
Account Settings
Account features
By default, voice & video is not enabled in your LiveEngage account. Please contact your LivePerson account manager to have this feature enabled for you.
User Profiles
Your agents on LiveEngage require a specific set of skills in order to use the voice, video or In-app CoBrowse capabilities of your account.
By default, these settings are enabled for your "agent" role. If you wish to disable or customize them for specific Agent Groups, follow these steps:
Goto the Users tab
Select Profiles
Select the profile you wish to edit (usually: Agent)
Enable the permissions you wish to grant to your group:
Initiate voice conversation
Initiate live video
Initiate CoBrowse view-only session, with scroll-control (1)
Initiate CoBrowse view-only session
Initiate CoBrowse shared control session
All of these settings should be self-explanatory.

(1) Scroll-only is currently supported in Web-based CoBrowse only. For in-app CoBrowse this setting is identical to the normal view-only mode.
Invitation Options
The settings you chose in User Profiles will be reflected in all of your account's Messaging conversations (not Chat). Depending on the features you enabled, you will see something similar to below: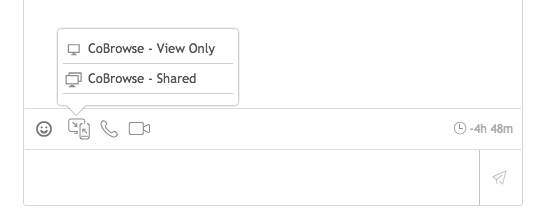 Register Your App with LiveEngage
In order to use your app with your LiveEngage account, you need to first register it. Just a few steps are required.
Register your App ID
Login to your LiveEngage account as Account Admin
Open Campaigns tab
Select Data Sources label below the campaigns list

Select APP tab
Under Mobile app Management choose Manage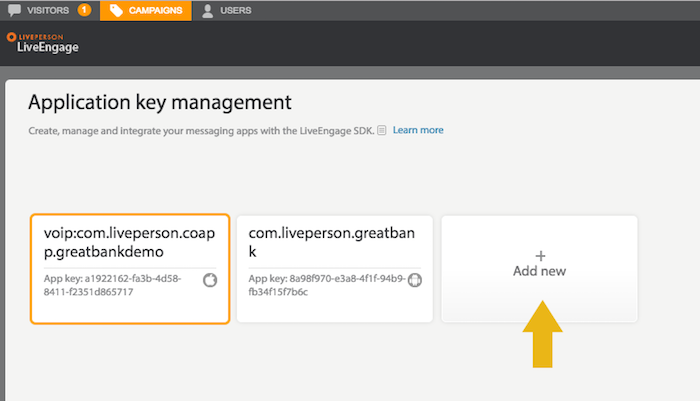 Choose [Android] as Platform
Enter your app's Bundle ID in Mobile App name
Enter your Firebase/GCM Server Key in Push notification API key
Press Create app
Wait for a confirmation, then Close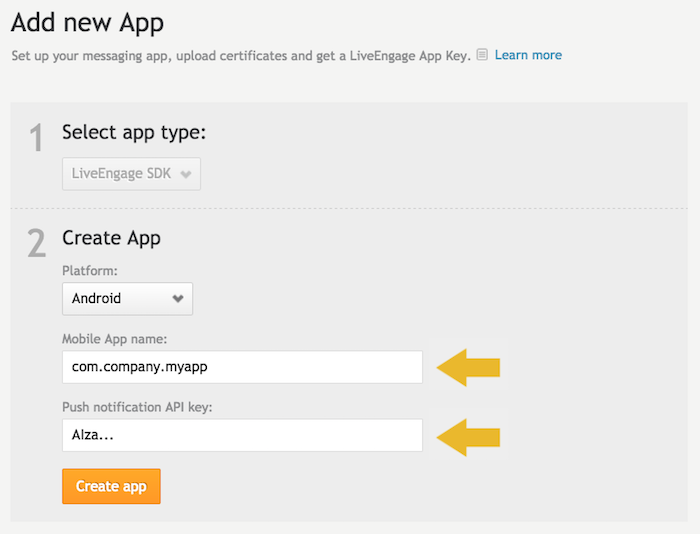 Your app registration is now complete!