In order for the push notification to work, you will need two .pem files:
A certificate file stored using a pem format.
A Key file stored using a pem format without a password.
Creating a Certificate Signing Request file
With this file, we will create both a .p12 file and a .crt file.
To manually generate a Certificate, you need a Certificate Signing Request (CSR) file from your Mac. To create a CSR file, follow the instructions below to create one using Keychain Access.
Step 1
In the Applications folder on your Mac, open the Utilities folder, and launch Keychain Access.
Within the Keychain Access dropdown menu, select Keychain Access > Certificate Assistant > Request a Certificate from a Certificate Authority.
Step 2
In the Certificate Information window, enter the following information:

In the User Email Address field, enter your email address.
In the Common Name field, create a name for your private key, for example,John Doe Dev Key.
The CA Email Address field should be left empty.
In the Request is group, select the Saved to disk option.
In Keychain Access, click Continue to complete the CSR generating process, you'll need this file to create the APN Certificate on the Apple Developer Portal.
Creating a push notification certificate. (der format .crt file)
In the iOS member area, go to your app area.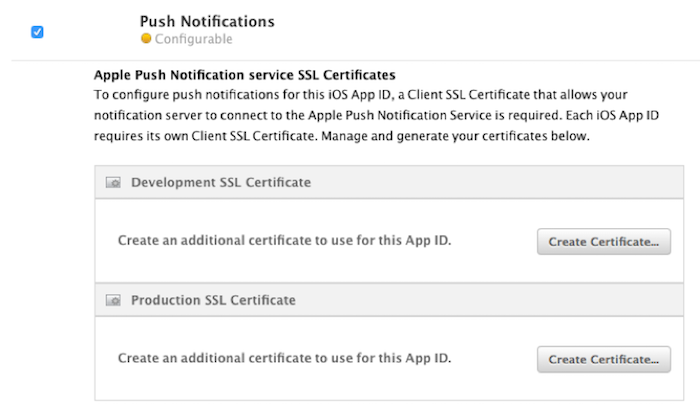 Under Push Notification service SSL Certificates, select Create Certificate (Developer or Production).
Choose the .csr file that you created in the previous stage.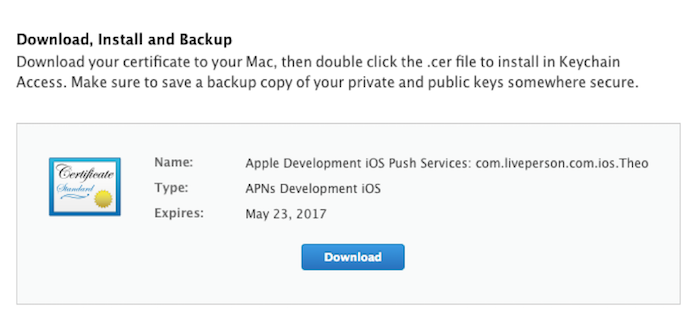 Download the file. This file will be used to create the .pem format certificate.
Download and run the certificate. The certificate is now added to your Keychain, paired with a private key:
Creating a key .p12 file

Right-click on your new push certificate and choose Export.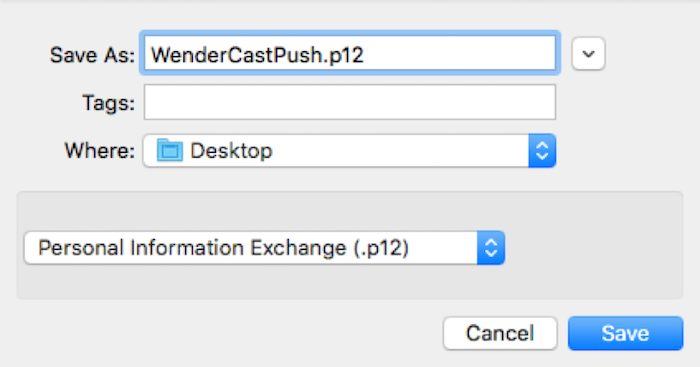 Save the certificate as pushNotification.p12 as a .p12 file.

You will be prompted to enter a password for the p12. You can either leave this blank or enter a password of your choosing.
Creating both key.pem file and cert.pem file
Note: This is used when configuring LiveEngage Push Notification.
Open the terminal and locate the folder in which you would like to save the file.

Create cert pem:
openssl x509 

-in

 aps_development.cer 

-inform

 der 

-out

 dev-cert.pem

Convert the private keys .p12 file into a .pem file: Using the Certificates.p12 file
cp Certificates.p12 key.p12

and then the following command
openssl pkcs12 

-nocerts

 

-out

 keyWithPassword.pem 

-in

 key.p12

You will be prompted to enter a passphrase for this file. Enter any password and remember it for the next step. RSA .pem key (enter a passphrase for the next step - I used "lpsn" as an example)
openssl rsa 

-in

 keyWithPassword.pem 

-out

 hostkey.pem

Upload into LiveEngage
Certificate file should be : dev-cert.pem
Key file should be : hostkey.pem