Agent Workspace Requirements
Your agents will be using LiveEngage from a regular web browser to make calls to your consumers. The following sections explain how to setup your LiveEngage account for voice & video support.
Note: Legacy systems do NOT support this feature
Supported Browsers
| Browser | Version | Desktop OS |
| --- | --- | --- |
| Chrome | latest (>= v54) | Windows, MacOSX, Linux |
Note: Only web browsers listed here are supported. When using LiveEngage from an unsupported browser the feature is automatically disabled from the agent workspace.
Required Hardware
| Feature | Hardware | Note |
| --- | --- | --- |
| Voice Calls | Microphone | - |
| Video Calls | Microphone + Webcam | - |
| In-app CoBrowse | - | requires a voice-call |
Account Settings
Account Features
By default, voice & video is not enabled in your LiveEngage account. Please contact your LivePerson account manager to have this feature enabled for you.
User Profiles
Your agents on LiveEngage require a specific set of skills in order to use the voice, video or In-app CoBrowse capabilities of your account.
By default, these settings are enabled for your agents role. If you wish to disable or customize them for specific Agent Groups, follow these steps:
Goto the Users tab
Select Profiles
Select the profile you wish to edit (usually: Agent)
Enable the permissions you wish to grant to your group:
Initiate voice conversation
Initiate live video
Initiate CoBrowse view-only session, with scroll-control (1)
Initiate CoBrowse view-only session
Initiate CoBrowse shared control session
All of these settings should be self-explanatory.

Scroll-only is currently supported in Web-based CoBrowse only. For in-app CoBrowse this setting is identical to the normal view-only mode.
Invitation Options
The settings you chose in User Profiles will be reflected in all of your account's Messaging conversations (not Chat). Depending on the features you enabled, you will see something similar to below: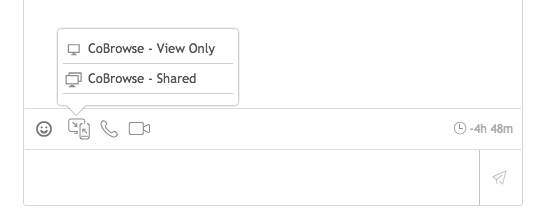 VOIP Configuration
To make full use of LivePerson's Live Voice & Video SDK, you should add Voice-Over-IP capabilities to your iOS app. This allows users to receive calls in real-time, even if your app is closed.
Heads-up: Setting up VoIP Push Notifications the first time can be the most time-consuming task of integration. However, it only needs to be done once and is absolutely worth the effort. Just follow the steps below.
Setting up your App
Push via SSL certificate
Push via Tokens
Setting up your App
Step 1: Login to Apple Member Center
First login to the Apple Member Center. Once logged in, you should open the section Certificates, IDs & Profiles from your sidebar.
Step 2: Create an App ID
Note: If you already have an explicit App ID with Push Notifications capability you can skip to Step 3.
In order to use Push notifications your app requires an Explicit App ID matching your app's bundle Id. Wildcard app IDs are not possible. To create a new App Id:
Under Identifiers, select App IDs.
Press + in top-right corner
Enter the app's name
Select Explicit App Id and enter the app's full bundle ID in the Bundle ID field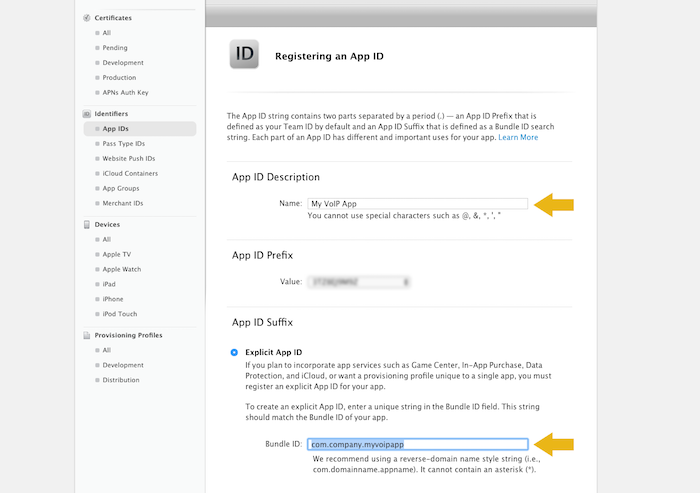 From the list of App Services check Push Notifications
Now press Continue and you're done with this step.
Push via SSL certificate
Step 1: Create a server-side VoIP push certificate
In order to send VoIP-Push notifications to your app's users, a server-side SSL certificate is required. The certificate ensures that no untrusted party can send push-calls to your users.
Under Certificates, select All.
Press + in top-right corner
Check VoIP Services Certificate from the list
Press Continue
In the next step you will need to select the Bundle ID of your app (created OR edited in Step #2). The displayed bundle ID contains a random prefix, which you can ignore. You will be asked to create a CSR (certificate-signing-request), so follow the on-screen instructions.
After the CSR is created you are asked to upload it
Once uploaded the server-side certificate is created, which we can then download
Open the downloaded certificate so it will be added to your Mac's keychain.
For some more details, refer to this answer on StackOverflow.
Step 2: Export your Certificate
In order for Apple VoIP Push services to be used through LivePerson's PusherService, the just created certificate & signing key are required. To export them, follow these steps:
First open the Keychain Access app on your Mac
Select login on top-left & Certificates bottom-left
You should see a list of certificates on your Mac
Select the VoIP certificate you just created (it's name includes VoIP Services)
Dropdown the selection
First select the certificate itself (top)
Right-click and choose Export XXX… from the menu
Choose a save location on your Mac, let's name it: myvoipapp-certificate.p12
You will be asked to enter a password. Choose any and remember it.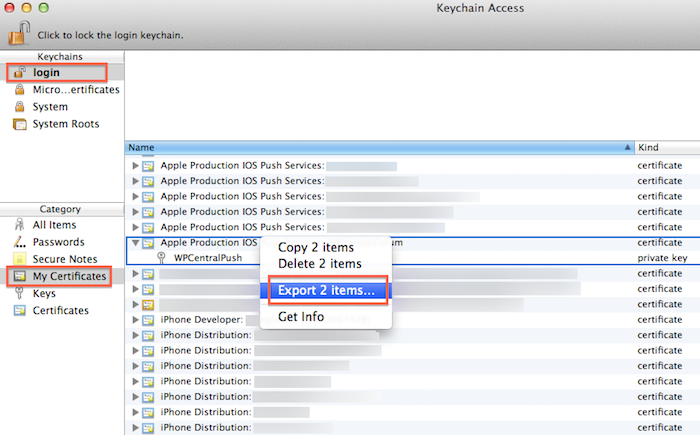 Now repeat the steps above, this time by selecting the private key just below the certificate
When saving let's name it myvoipapp-private-key.p12
Your have now successfully exported both your Certificate & Private Key.
Step 3: Convert your Certificate
Apple's PushService requires Push Certificates and keys to come in a special SSL format, called pem. For this reason, it is necessary to convert the certificates exported from your Mac, which are stored in p12 format.
Make sure you have OpenSSL installed on your computer
cd to the directory where you exported both your *.p12 files to
Run the commands below in order, assuming you named your certificate myvoipapp-certificate.p12 and private-key myvoipapp-private-key.p12 respectively
Run OpenSSL in Shell
# Step 1 - Converts your certificate from p12 to pem


openssl pkcs12 

-clcerts

 

-nokeys

 

-out

 myvoipapp-certificate.pem 

-in

 myvoipapp-certificate.p12

# Step 2 - Converts your private-key from p12 to pem


openssl pkcs12 

-nocerts

 

-out

 myvoipapp-private-key.pem 

-in

 myvoipapp-private-key.p12

# Step 3 - Removes the password-protection from your private-key (required!)


openssl rsa 

-in

 myvoipapp-private-key.pem 

-out

 myvoipapp-private-key-nopass.pem

Store Certificates
Now delete myvoipapp-private-key.pem again.You should end up with two remaining new files, which you should store safely:
myvoipapp-certificate.pem
myvoipapp-private-key-nopass.pem
This is it. The created files are required to be uploaded to LivePerson's App Configurations of your LiveEngage Account. To learn how to upload your certificates, please continue reading Register Your App.
Push via Tokens
Coming soon
Push notifications using tokens are not yet supported. Please contact your LivePerson account manager for more details.
Register Your App
In order to use your app with your LiveEngage account, you need to register it. The steps below are mandatory to receive push-call notifications on iOS.
Register your App ID
Login to your LiveEngage account as Account Admin
Open Campaigns tab
Select Datasources label below the campaigns list

Select APP tab
Under Mobile App Management choose Manage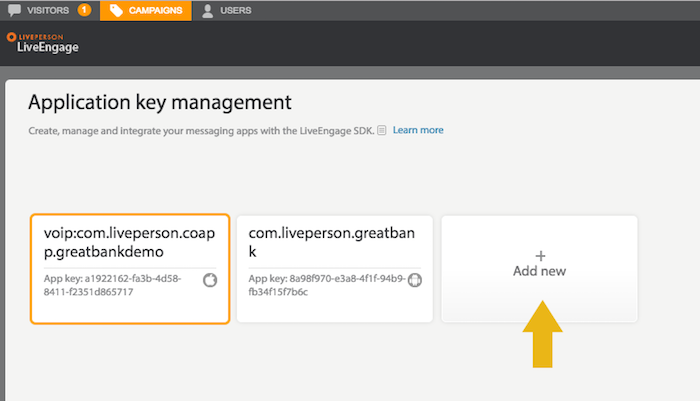 Choose [iOS] as Platform
Enter your app's Bundle ID prefixed with voip: in Mobile App name, for example: voip:com.mybrand.app. Adding the prefix is mandatory to receive VoIP calls.
Press Create app
Wait for a confirmation, then Close
---
Configure your App
Choose your app from the list
Click Edit when hovering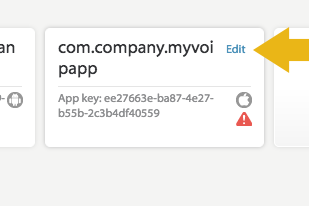 Upload your Certificate file
Upload your Key file
Save changes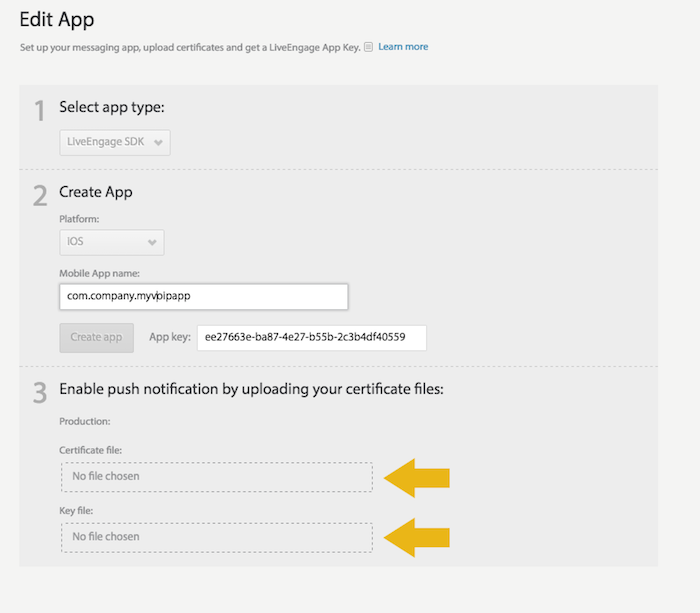 Note: If you followed the VoIP Example Setup, these are myvoipapp-certificate.pem and private-key myvoipapp-private-key-nopass.pem, respectively.
Your app registration is now complete.